Comfortable, rotating TV lift with an automatic lid opening system AUTOLID
The RotoLift series, in addition to the lifting and lowering functions, also can swivel TV. Thanks to this solution, the comfort of using the TV has been increased, which can be adjusted to suit your needs.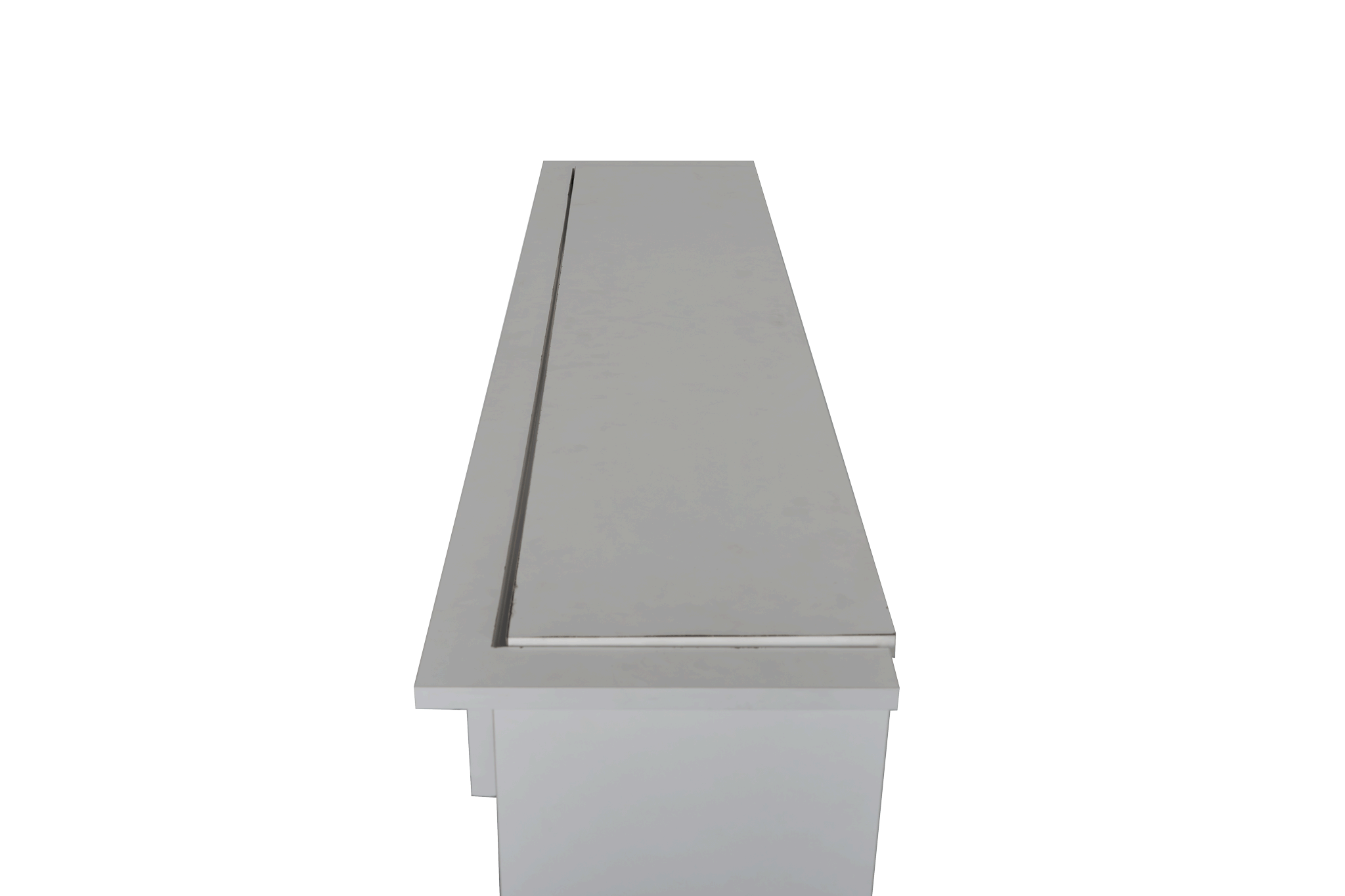 A set with AutoLid, provides a smooth, safe and comfortable opening and closing of the 90° flap. You can order AutoLid with any RotoLift type lift.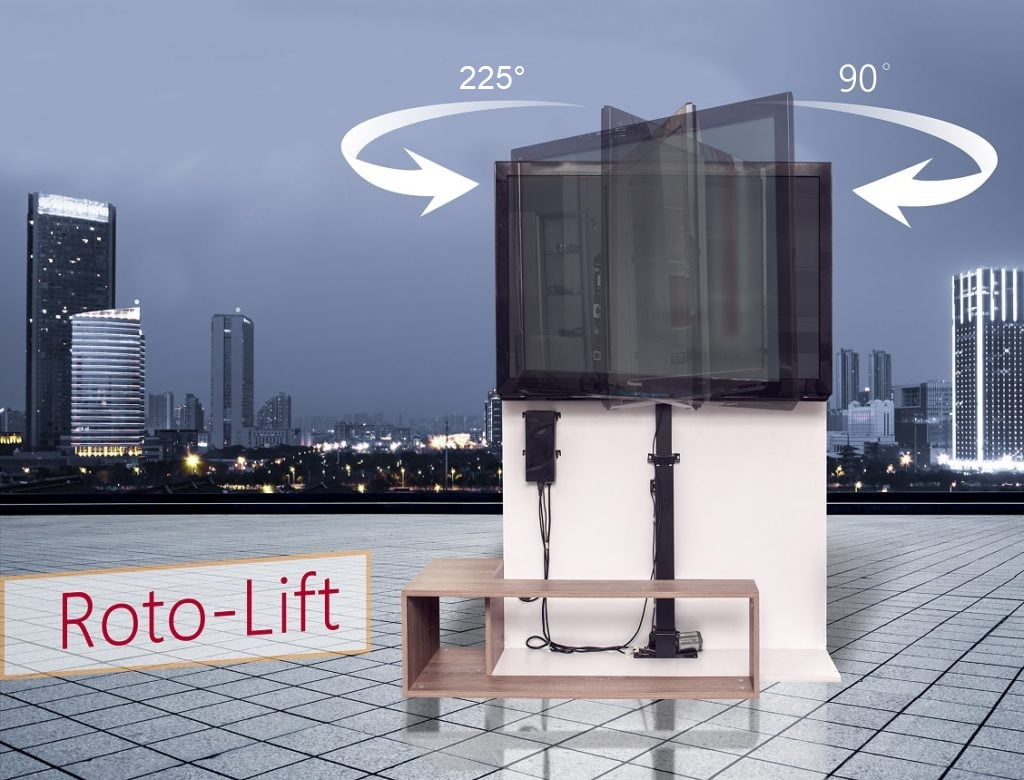 The Rotolift series, in addition to the lifting and lowering functions, also can rotate the mounted TV. RF Operated with RF Remote delivered in the set. Rotation 225° Clockwise and 90° counter-clockwise. Soft start and soft stop functions keep the mechanism working for even longer. Universal TV mount covers VESA standards from 200×200 to 600×600 and everything in between. The top and low viewing positions can be easily programmed via the control box. The premium control box allows most of the premium conveniences. A unique and patented TV weighting system stops and raises the lift slightly even if a slight obstacle is encountered – therefore protecting both the unit and the users around it. Additional power cord allows connecting TV directly to the lift -no need for extra cables. The power Guard function protects the TV from lowering it when turned on – cutting the power of the screen so that it's always hidden securely. Electric motor protected from too much load and overheating. 5 Year warranty with over 80 thousand cycles on full load ensured. This model requires a mounting lid on the top of the TV – proper brackets with easy mounting instructions are provided. A Multicode IR-Receiver can be purchased separately to operate a TV lift with IR remotes.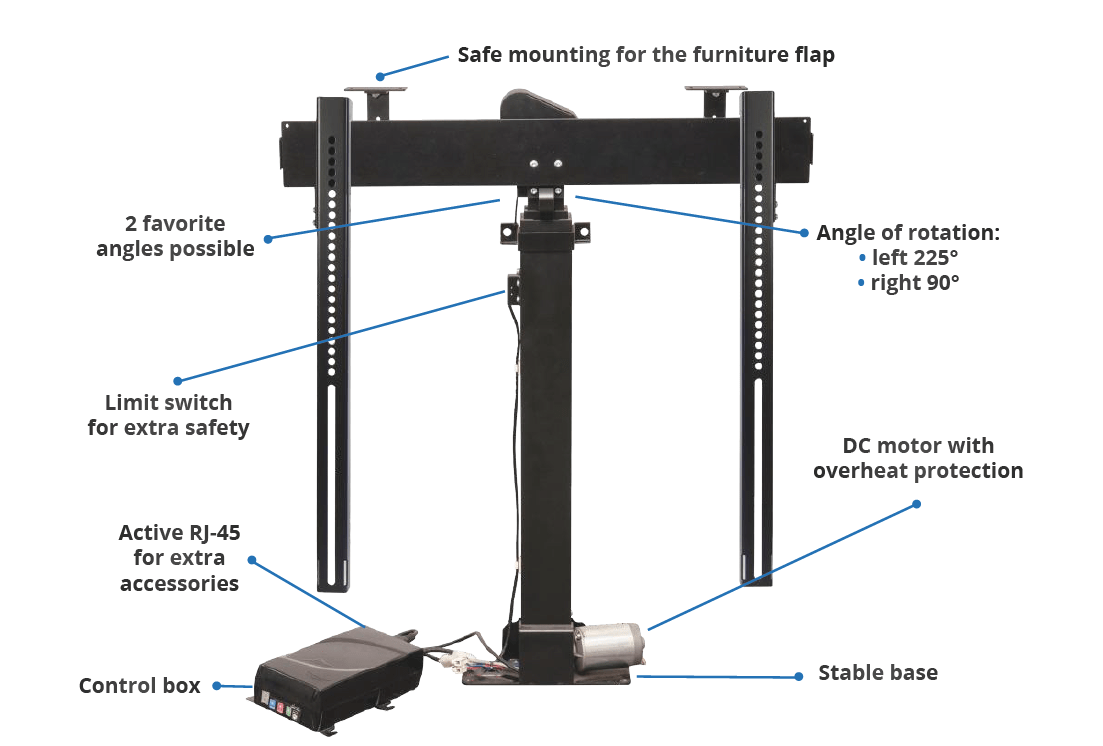 Dimensions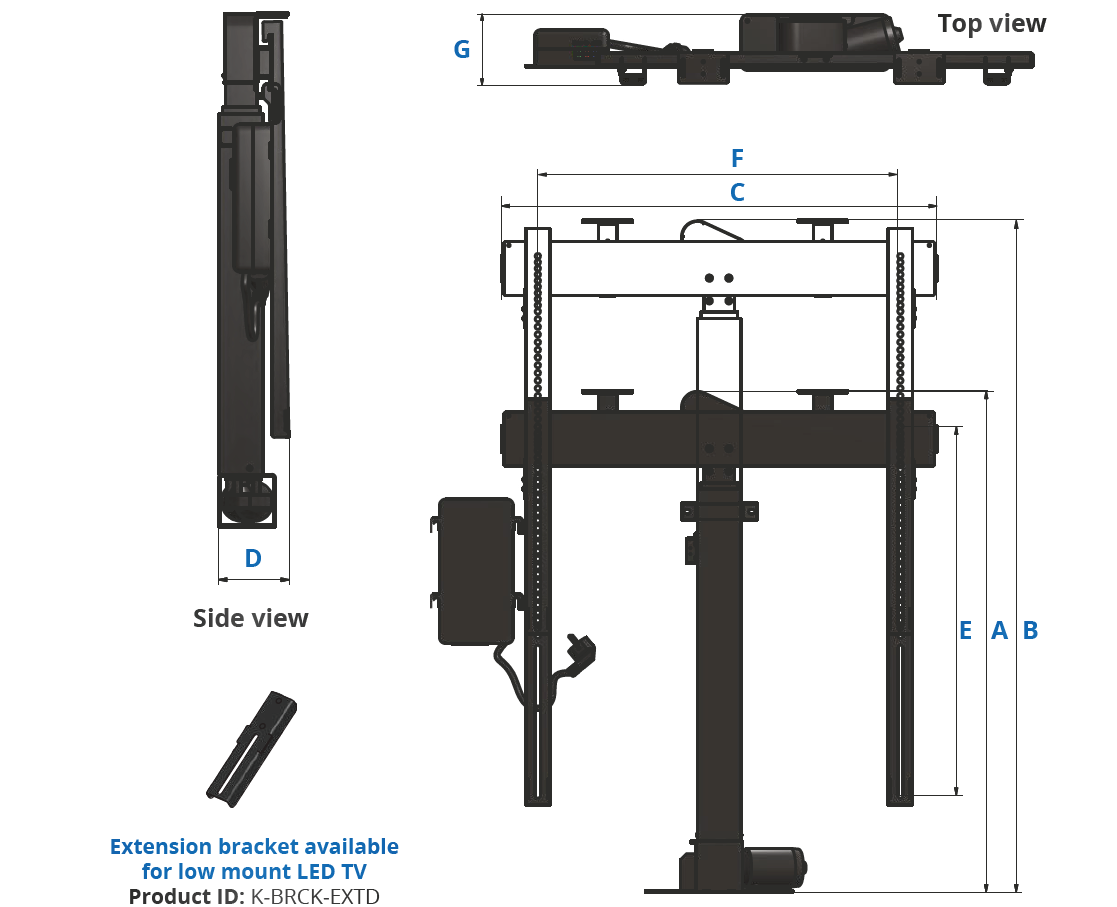 | | K-1 Rotolift | K-2 Rotolift | K-3 Rotolift | K-5 Rotolift |
| --- | --- | --- | --- | --- |
| A | 762 | 823 | 887 | 967 |
| B | 1483 | 1665 | 1821 | 2012 |
| C | 508 | 708 | 708 | 708 |
| D | 112 | 112 | 112 | 112 |
| E | 530 | 600 | 670 | 740 |
| F | 100-460 | 100-660 | 100-660 | 100-660 |
| G | 112 | 112 | 112 | 112 |
Automatic lid opening system – in set
Accessory for Rotolift Series. Connected to the original Rotolift control box, it hides the lid of your furniture slightly behind it so that the TV can rotate easily without the necessity of having the lid mounted to the top of the screen. The top-quality electric motor allows over 20 thousand operations with no maintenance. Max weight of the lid is 5 kg / 11 lb. Thanks to the clutch system the unit is foul-proof.
Autolid Dimensions
Recommended cabinet dimensions for mounting ROTOLIFT with AUTOLID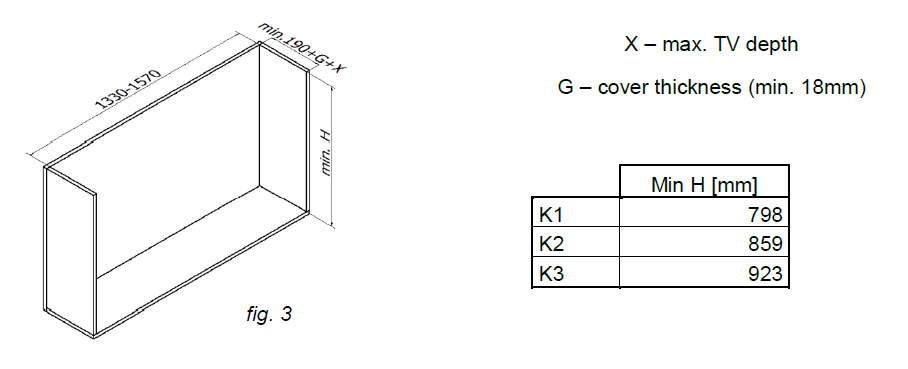 An advanced weighing system is a top-shelf solution for safety. It can feel very small obstacles when you hide your tv - stopping the lift and raising it about 4cm's.
Electronic digital display
The digital display allows easy communication with the end-user showing all necessary functions and enabling easy diagnostic and troubleshooting.
Easy and intuitive setup of lifting height or rotation angle with our dedicated control box. Smooth adjustment thanks to electronic controls makes using the lift or bracket comfortable.
A 5-year warranty is proof of Sabaj quality. We are certain of our products, which we manufacture internally and test thoroughly before shipping to a customer.​
Cable guides are included (type depending on a model) to make sure movement runs smooth with no cables pulled from their sockets.
Universal bracket allows smooth mounting of every tv screen. A set of washers and bolts allows fixing the screen and easy adjustment. Compatible with VESA standards 100x100, 200x200, 300x300, 300x300, 500x500, 600x600.
Adjustable Lifting height
Easy and intuitive setup of lifting height with our dedicated control box. Smooth adjustment thanks to electronic controls makes using the lift comfortably.
Engine overheat protection
This function protects the engine from overheating - giving it hassle-free operation for years. It is also treated as the hard-safety - protecting the furniture from being damaged. When activated - the system cuts the power from an engine and signals error.
Power socket with a cable allows powering the TV directly via the control box. The power guard system is watching the voltage, being able to cut the power off when somebody tries to hide the device without powering it off.
Features
K-1 RotoLift
K-2 RotoLift
K-3 RotoLift
K-5 RotoLift
Lifting height
721 mm (28″)
842 mm (33″)
934 mm (38″)
1040 mm (41″)
Angle of rotation
Counter-clockwise – 90° Clockwise – 225°
Counter-clockwise – 90° Clockwise – 225°
Counter-clockwise – 90° Clockwise – 225°
Counter-clockwise – 90° Clockwise – 225°
Max. load
30 kg (65 lb)
50 kg (110 lb)
60 kg (130 lb)
60 kg (130 lb)
Rotation speed
1,5 rpm
1,5 rpm
1,5 rpm
1,5 rpm
Lifting speed
2 cm/s
2 cm/s
2 cm/s
2 cm/s
Shipping weight
14 kg (31 lb)
17 kg (38 lb)
18 kg (40 lb)
19 kg (42 lb)
Max. TV
44″
50″
60″
Max. VESA
600×600
Power consumption
80W
Safety system
Automatic weight system
Power supply
115V or 230 V
Control
RF remote control
Warranty
5 years
Item weight
31 kg