Compact solutions for smaller screens
The M Series is a Cartridge-type lift, which can be mounted very easily on any furniture. It requires only a rectangle hole in which you need to mount the lift – and that's about it. Button operated, has an active RJ-45 Port for all the Sabaj Accessories. Perfect for lifting PC screens and smaller TVs. Conference rooms most favorite – the possibility to set a one-triggers-all manner, so you can place unlimited numbers of those in a line. Can also be used in kitchens, living rooms, and offices. Anywhere you might need hiding your screen and having a flat table. Equipped in the most popular small-screen VESA mounts – from 50×50 up to 200×200.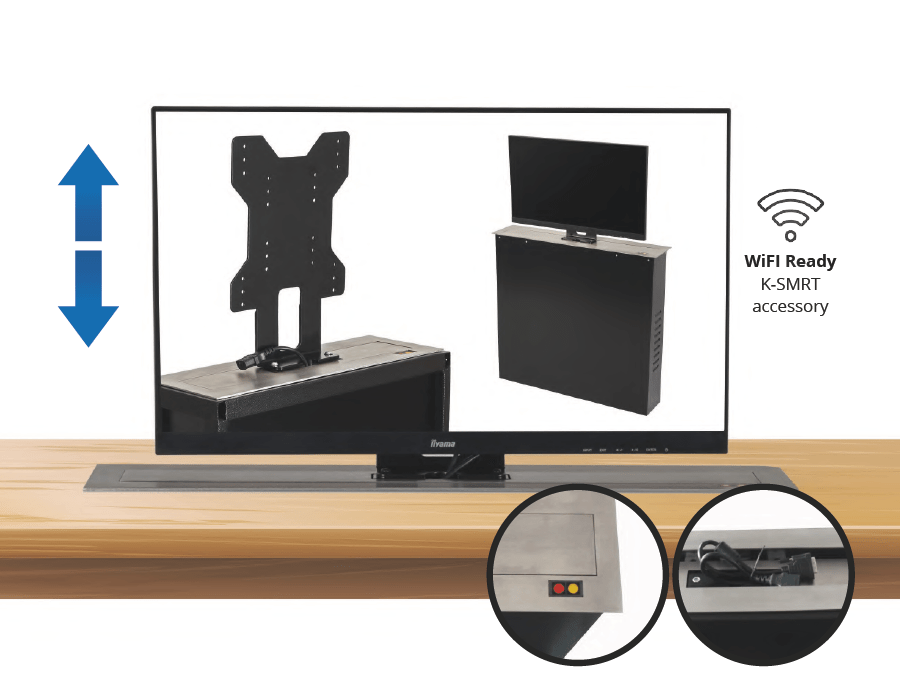 The M series are monitor lifts that are closed in compact, aesthetic housings. Thanks to this, the installation in any type of furniture is extremely simple – it comes down to cutting the appropriate hole and embedding the elevator. The control is carried out using a convenient panel with membrane buttons. In addition, the product is equipped with an active RJ-45 connector, which allows the use of all kinds of accessories. M series lifts are ideal as lifts that allow you to hide a monitor or a small TV inside your desk. Thanks to the possibility of serial connection, they are often installed in conference rooms. Thanks to their compact dimensions and housing, they are also used in kitchens, living rooms, and offices – in any place where there is a flat tabletop, in which the M-type lift will be mounted.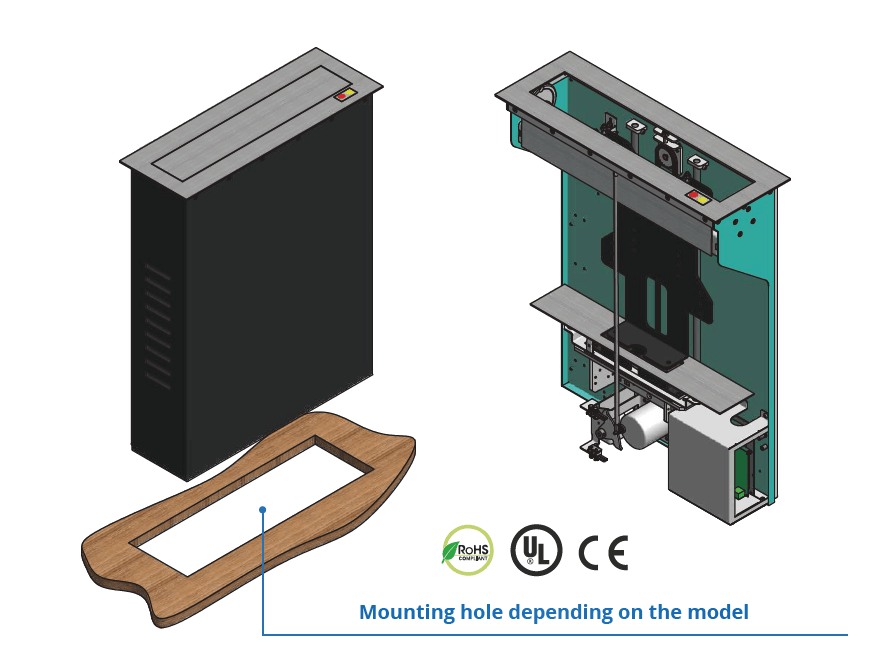 Bottom, top, front and Side view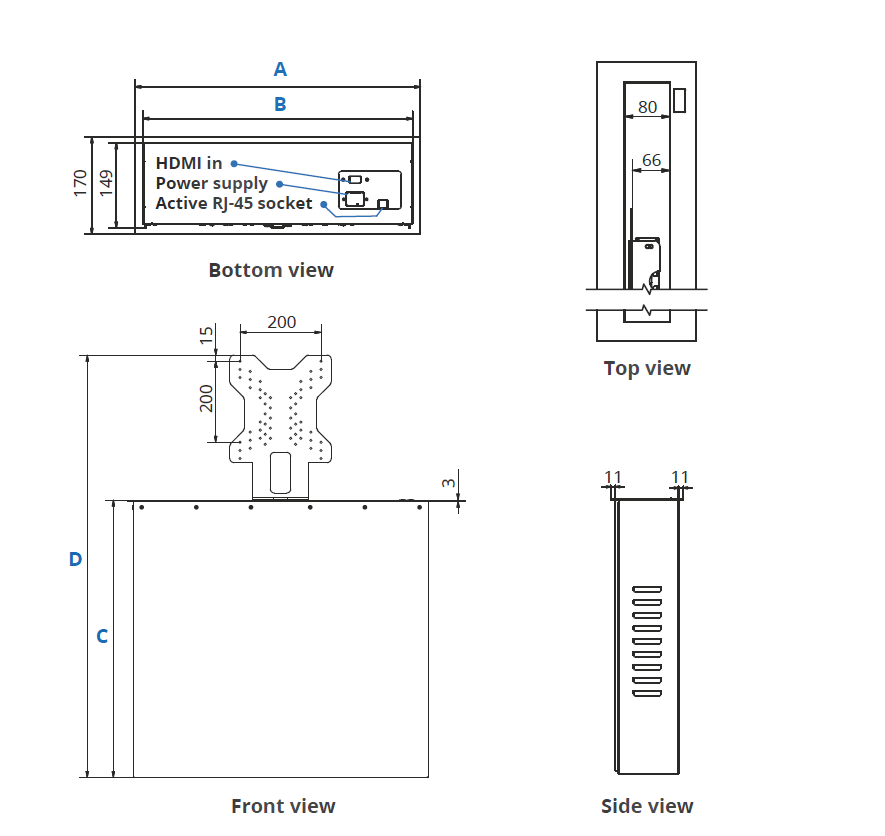 | | M-2 ECO | M-3 ECO | M-4 ECO | M-5 ECO |
| --- | --- | --- | --- | --- |
| A | 500 | 620 | 755 | 805 |
| B | 473 | 593 | 728 | 778 |
| C | 632 | 682 | 682 | 682 |
| D | 945 | 1045 | 1045 | 1045 |
5-year warranty is a proof of Sabaj quality. We are certain of our products, which we manufacture internally and test thoroughly before shipping to a customer.​
Built-in power and HDMI wires. You can just connect your wires at the bottom of the box, and don't worry about cable routing inside the MONITOR LIFT.
Universal bracket allows smooth mounting of every monitor screen. Compatible with VESA standards 50x50, 100x100, and 200x200.
Engine overheat protection
This function protects the engine from overheating - giving it hassle-free operation for years. It is also treated as the hard-safety - protecting the furniture from being damaged. When activated - the system cuts the power from an engine and signals error.
Active RJ-45 socket allows using all the Sabaj accessories used for additional lift controls. Products like K-SMRT, K-PLC, K-BTN can be easily plugged in and used for operating the lift or electrical bracket.
Serial connection compatible
Can be used in a one-click manner for steering multiple units.
M-2 ECO
M-3 ECO
M-4 ECO
M-5 ECO
Monitor Size
Up to 19″
Up to 23″
Up to 27″
Up to 32″
Lifting Capacity
Up to 10 kg (22 lb)
Up to 10 kg (22 lb)
Up to 10 kg (22 lb)
Up to 10 kg (22 lb)
Max. Monitor Size
420×380
x70 mm (16,5″x15″x2,76″)
545×420
x70 mm (21,5″x16,5″x2,76″)
680×420
x70 mm (26,8″x16,5″x2,76″)
730x420x70 mm (28,7″x16,5″x2,76″)
Lifting Height
410 mm/16″
460 mm/18″
460 mm/18″
460 mm/18″
Mounting Hole
475×150 mm (18,7″x5,9″)
595×150 mm (23,4″x5,9″)
730×150 mm (28,7″x5,9″)
780×150 mm (30,7″x5,9″)
Power Consumption
9,6W
Max. VESA
200×200
Power Supply
115V lub 230 V
Remote Control
RF Remote
Warranty
5 year
Finish
INOX / Black