Full mobility & comfort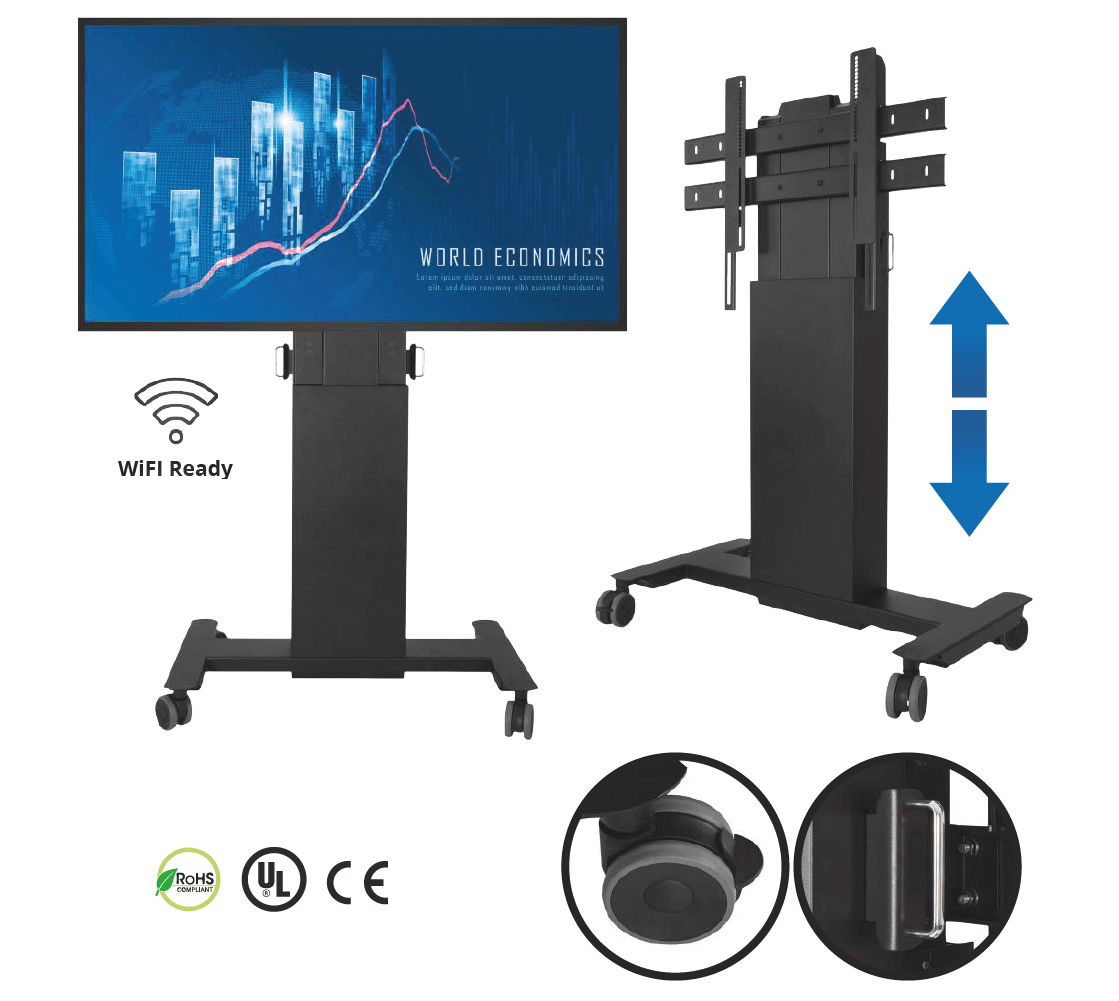 The premium version of our mobile display stand with a 500 mm height adjustment. Moblift Premium can lift screens as heavy as 130 kg. Its elegant design can fit anywhere. Dedicated accessories fit both MOBILIFT series.
Mobi-Lift PREMIUM TV Lift is another product from our original series, which is distinguished by its mobility function and huge lifting capacity. Special design and locking caster wheels allow us to easily move the product without the help of another person.
In the PREMIUM version, you can use RF remote and cable remote. And don't worry about cables – use convenient cable management.
Mobilift Premium – Key Features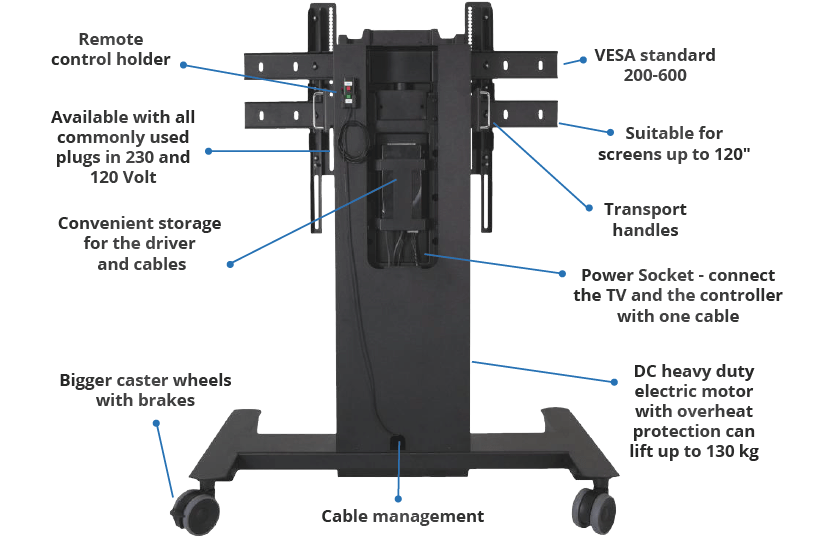 Customize your Mobilift
You can add a wide variety of accessories: interactive whiteboard with projector mount set or PC enclosure. Try it and make your multimedia set as functional as possible. All the accessories fit both MobiLift Premium and Mobilift Eco.
Mobilift Premium – Dimensions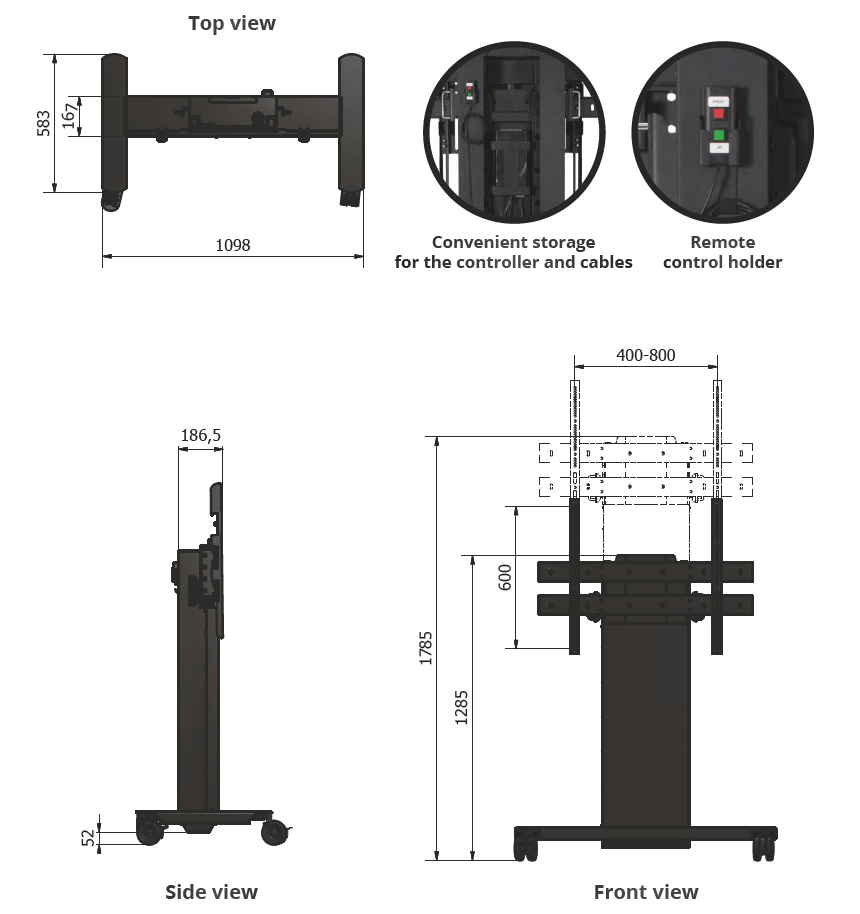 5-year warranty is a proof of Sabaj quality. We are certain of our products, which we manufacture internally and test thoroughly before shipping to a customer.​
Cable guides included (type depending on a model) to make sure movement runs smooth with no cables pulled from their sockets.
Universal bracket allows smooth mounting of every tv screen. Set of washers and bolts allows fixing the screen and easy adjustment. Compatible with vesa standards 200x200, 300x300, 400x400, 500x500, 600x600, 800x600, 900x600.
An advanced weighing system is a top-shelf solution for safety. It can feel very small obstacles when you hide your tv - stopping the lift and raising it about 4cm's.
Electronic digital display
The digital display allows easy communication with the end-user showing all necessary functions and enabling easy diagnostic and troubleshooting.
Easy and intuitive setup of lifting height or rotation angle with our dedicated control box. Smooth adjustment thanks to electronic controls makes using the lift or bracket comfortable.
Adjustable Lifting height
Easy and intuitive setup of lifting height with our dedicated control box. Smooth adjustment thanks to electronic controls makes using the lift comfortably.
Engine overheat protection
This function basically protects the engine from overheating - giving it hassle-free operation for years. It is also treated as the hard-safety - protecting the furniture from being damaged. When activated - the system cuts the power from an engine and signals error with a short sound and on the digital display.
Active RJ-45 socket allows using all the Sabaj accessories used for additional lift controls. Products like K-SMRT, K-PLC, K-BTN can be easily plugged in and used for operating the lift or electrical bracket.
| Model | Mobi-Lift PREMIUM 500 |
| --- | --- |
| Lifting Capacity | 130 kg (286 lb) |
| Lifting Height | 500 mm (20″) |
| Shipping weight | 90 kg (198 lb) |
| Lifting speed | 20 mm/s |
| Power consumption | 80 W |
| Safety system | Automatic weighting system |
| Power supply | 230V |
| Control | RF control |
| Warranty | 5 years |
| Colors | Black / Silver |