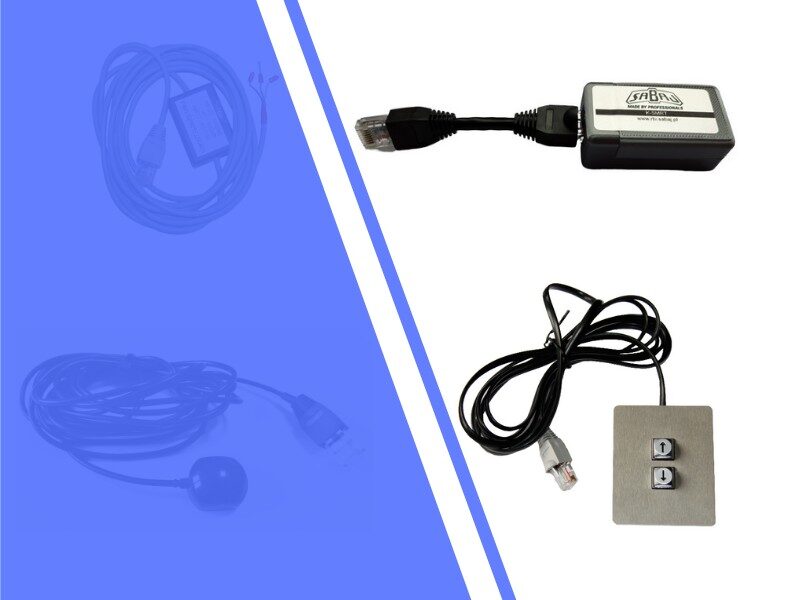 Nowa­days, we have great oppor­tu­ni­ties to use intel­li­gent devi­ces that make our day easier or make life extra­or­di­nary. Moun­ting the TV lift and stan­dard con­trol is just one of the options, but even that you can take a level higher.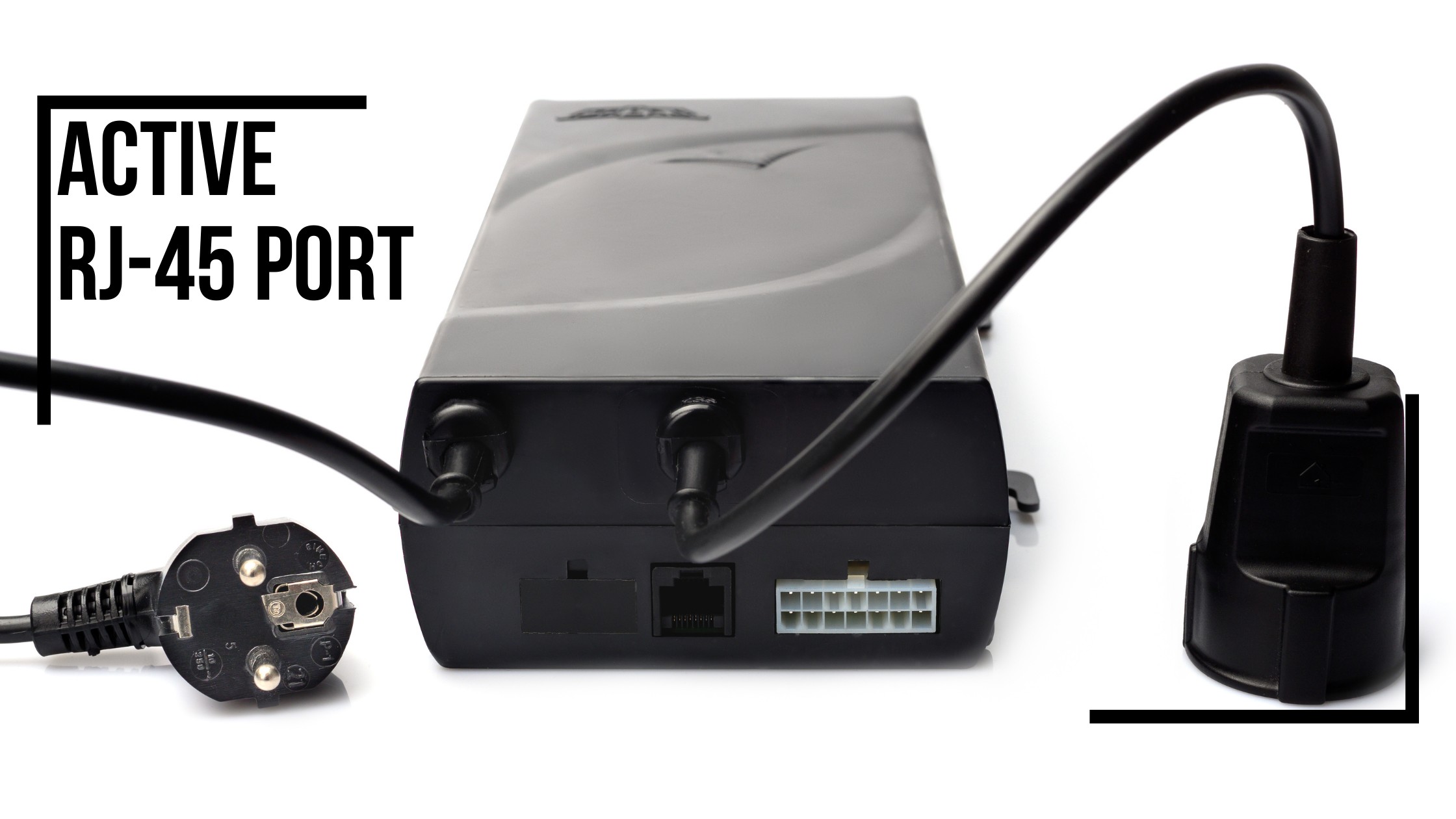 For bet­ter com­fort of use
Depen­ding on the lift model you have, you can cho­ose addi­tio­nal acces­so­ries that will improve your com­fort of use. If you have a lift with an active RJ-45 jack, you can apply seve­ral solu­tions that have a mat­ching plug. What is the RJ-45? The name comes from the English phrase – Regi­ste­red Jack 45, and is a stan­dardized con­nec­tion – a plug and jack – used to con­nect voice and data between devi­ces. Altho­ugh it is very simi­lar, it sho­uld not be con­fu­sed with Ether­net cable.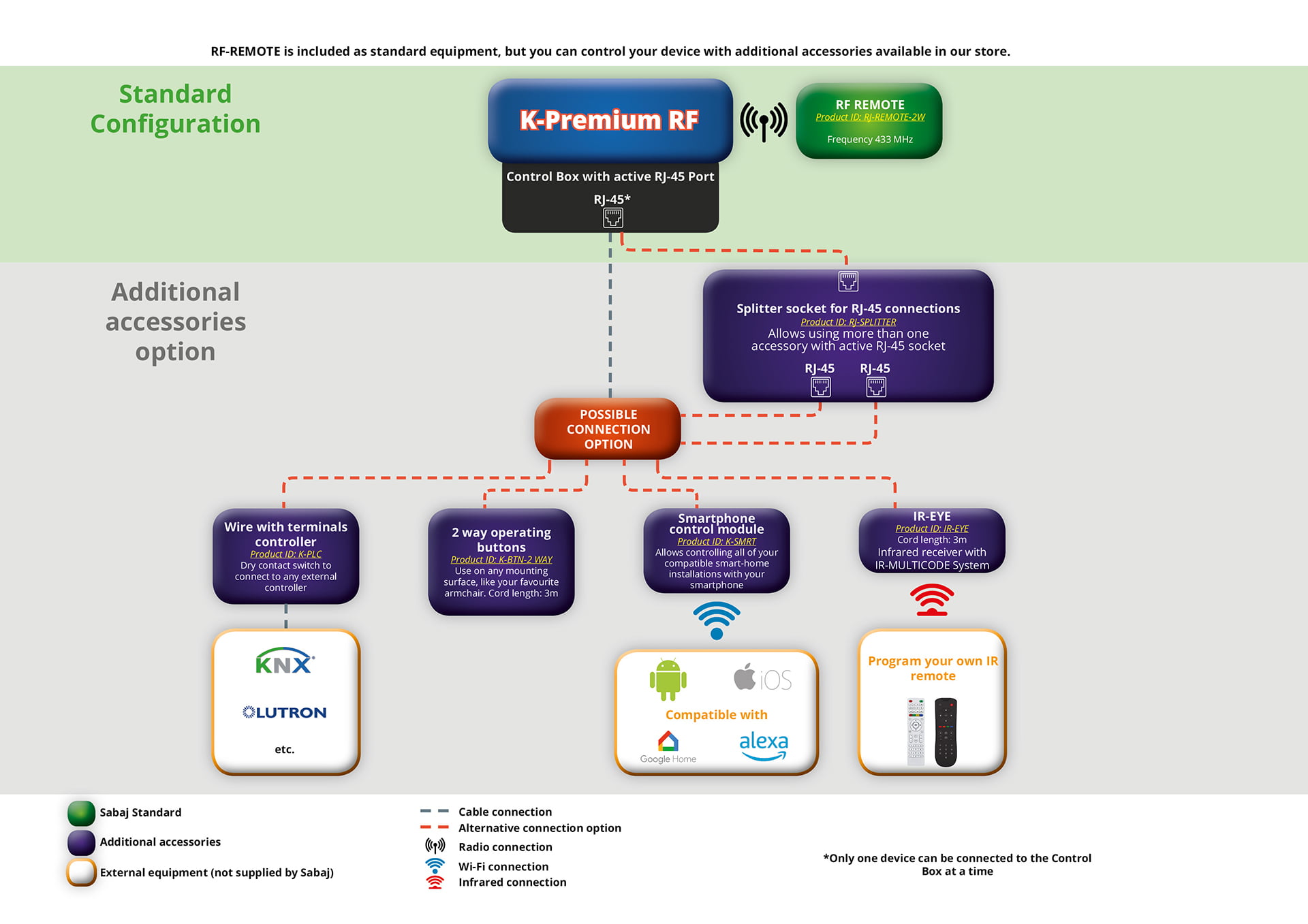 Remote con­trol or smart home device?
If you chose the IR type of our lift, you got the IR Rece­iver – IR-EYE from Sabaj as stan­dard, but you can pur­chase addi­tio­nal devi­ces. You can con­nect 2– or 4-way ope­ra­ting but­tons (K-BTN-2 WAY or K-BTN-4 WAY), depen­ding on the range of motion of your lift, and mount them on the fur­ni­ture, e. g. on the arm­rest of your favo­rite arm­chair. Ano­ther idea is to use Sabaj wire with ter­mi­nals con­troller (K-PLC), which thro­ugh the dry con­tact switch you can con­nect to the intel­li­gent home sys­tems like Lutron or KNX. Both devi­ces have a 3-meter long cord.
Smart­phone always at hand
Per­haps you pre­fer to con­trol your device from your smart­phone app, so we sug­gest the smart­phone con­trol module for Android/iOS (K-SMRT-4). This unit can be paired thro­ugh a Wi-Fi network with the wBox app and other devi­ces, like Ama­zon Alexa or Google Home. When you would like to use more than one of the above solu­tions (IR-EYE, K-BTN, K-PLC, or K-SMRT) you need an RJ-SPLITTER – split­ter soc­ket for RJ-45 con­nec­tions.

Radio remote con­trol
The solu­tion that does not need a con­nec­tion via the RJ-45 network is the RF-REMOTE with 2 or 4 but­tons. That wire­less device is using radio fre­qu­ency to con­trol all types of Sabaj lifts and stands. If you chose the RF type of our lift, you got it as stan­dard instead of the IR-EYE, which you can pur­chase then if your RJ-45 port is active and pro­gram your own IR remote. It could be the same remote that you use for your TV.